Description
Type: Eagle
Sleeps: 4 single beds
Number: 2
Max people: 4
Disabled access?: No
Smoking: No
Eagle Chalet is the second of the two more isolated chalets which make up Cederberg Chalets accommodation in the Cederberg. As with the others, Eagle Chalet is a fully restored version of the traditional shepherds' stone cottages and provides two bedrooms which can each accommodate two guests. Everything the intrepid explorer may need is provided within this comfortable chalet, though guests will find no excessive luxuries present as they detract from the untamed character of Cedar Rock.
Complete with a magnificent stone fireplace, gas powered fridge, stove and geyser – explorers of the Cederberg are ensured of comfortable lodgings to return to after an exciting day of hiking, fishing or game viewing. Eagle Chalet is designed to accommodate a smaller group which intends to take full advantage of the feeling of tranquil isolation inherent to the Cederberg. Although the reserve's administration office and the other lodges are only a few kilometres away – they are certainly not visible from your porch.
Eagle Chalet gives direct access to beautiful mountain climbs. Having a mountain at one's immediate front door is not a claim that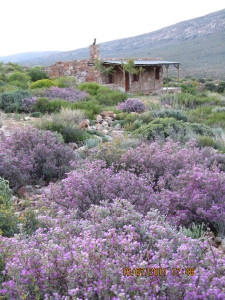 many people on earth can make but, for the duration of your stay, this is exactly the case. The apex of your mountain retreat gives breathtaking views of the Doring River canyon, which stretches out below, and an unobstructed view leading up to the distant Karoo mountains.
As with the other chalets on the Cedar Rock reserve, Eagle provides an air of absolute tranquillity and silence. This is a journey which is all about you and nature, allowing for no distractions as you hike the hills and mountains or take to the trails on foot or with your bicycle. Complete with unmatched floral displays in season as well as roaming zebra, gemsbok and more – Cederberg Chalets provides you with a once in a lifetime experience which is unreplicated elsewhere in the world.
To secure your accommodation in the Cederberg, continue through to our reservations section and make the journey which will redefine you.
** Please note: should a same day booking be made over a weekend, ie Saturday / Sunday, etc, the fridge will not be switched on in advance of your visit.